"For with you is the fountain of life; in your light we see light." Psalm 36:9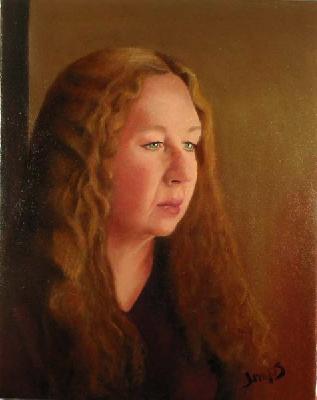 Seeing depends on light. As an artist everything I see God created, from nature to the emotions of man. Since I am made in His likeness I have inherited a portion of that creativeness as my own. I think an artist is one who intentionally and purposefully creates from the heart something perceptive, something imaginative, something beautiful to make a difference in the world.
Portraiture and figures are my favorite things to paint. I also paint prophetic abstracts and figure often in live venues.
My paternal grandmother taught me how to sew at the age of seven. That launched me into a lifelong pursuit of creative craftsmanship and problem solving. Oil painting began January 2004. Born inside the DC Beltway, raised in San Diego as the second of eight siblings, I raised my four kids, including homeschooling them, on 40 acres in Washington State and later worked as a missionary out of El Paso, TX.
"Green Tina", my first ever oil painting was accepted into a national show in 2004 through the Associated Artists of Winston-Salem, NC. I've had the privilege of taking workshops from portrait artist Luana Luconi Winner and George Thompson, but I am mostly self-taught. I have an AAS in Media Production from El Paso Community College and entered the world of TV News as an intern. For 7 of the 10 years of my TV career I created and operated electronic graphics for live news.
I sign my paintings as "jmps". The short explanation is, these are my initials: Jean Marie Piszkin (maiden name-Polish/Russian descent) Smith. I currently live in Winston-Salem, NC.