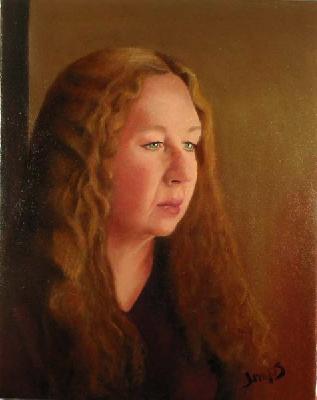 From an early age I was interested in "making stuff". It was fun and challenging. My grandma, Snerdi, taught me how to sew when I was 7 years old. From there I tried every craft that I could get my hands on.
Married and 4 kids later, I lived off the grid with my family on 40 acres in Washington State. There I homeschooled the kids and chopped a lot of wood, which I find relaxing. There was never a shortage of experiences to spark creativity. (My son wrote a book, Growing Up Itchy.) When the youngest was 5 we joined a missionary group in El Paso, TX. It was also in El Paso that I earned a AAS in Media Production and worked in TV News.
Years later and single, I ended up in Winston Salem, NC. My son had sent me a sample set of oil paints which I avoided for half a year. It's here that I faced my fears and opened them up. What I discovered was that using oils was perfect for me. I realized it's how I think.
From the beginning I have been drawn to the human image, portraits and figures. God created the nature and emotions of man and all of that is so fascinating to me. At times, I like to mix it up a bit by using extremely abstract backgrounds and/or dreamlike themes.
I would love to create your own commissioned piece to add to your family legacy. Hire Me.
Over the years, I have participated in several local group shows. "How Do You Paint Courage" shows 1 & 2 each traveled for over a year installed in various venues including Forsyth Hospital, Cone Cancer Center, Yadkin Cultural Arts Center and the Greensboro's Center for Creative Leadership.
It's been my privilege to have taken workshops from Luana Luconi Winner, George Thompson, Tom Edgerton, and Ned Mueller. A library of videos and books keeps me happy and challenged to always improve my skills.
I sign the front of my paintings as "jmps". The short explanation is, these are my initials: Jean Marie Piszkin (maiden name-Lithuanian/Russian) Smith. Then sign 'JeanSmith' on the back. Since Jean Smith is a common name that's how you will know that painting is mine.