"For with you is the fountain of life; in your light we see light." Psalm 36:9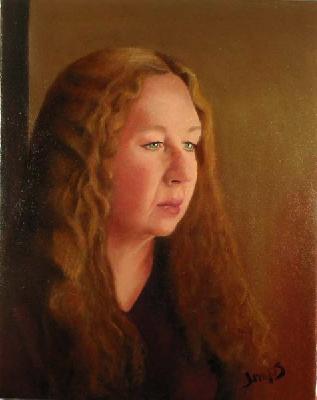 Seeing depends on light. As an artist everything I see God created, from nature to the emotions of man. Since I am made in His likeness I have inherited a portion of that creativeness as my own. I think an artist is one who intentionally and purposefully creates from the heart and the soul something perceptive, something imaginative, something beautiful to make a difference in the world. Portraits and figures are my favorite things to paint. For a portrait commission go to: Hire Me. Recently I have tried my hand at plein air painting.
My dad's mom, Snerdi (affectionate family nickname) taught me how to sew at the age of seven. That launched me into a lifelong pursuit of creative craftsmanship and problem solving. The oil painting journey began January 2004. Born inside the DC Beltway, raised in San Diego as the second of eight siblings, I raised my four kids, including homeschooling them, on 40 acres in Washington State and later worked as a missionary out of El Paso, TX. I moved to North Carolina in 2003, now residing in Winston Salem.
I have participated in several local group shows. "How Do You Paint Courage" shows 1 & 2 each traveled for over a year installed in various venues including Forsyth Hospital, Cone Cancer Center, Yadkin Cultural Arts Center and the Greensboro's Center for Creative Leadership.
It's been my privilege to have taken workshops from Luana Luconi Winner, George Thompson, Tom Edgerton, and Ned Mueller.
I sign the front of my paintings as "jmps". The short explanation is, these are my initials: Jean Marie Piszkin (maiden name-Lithuanian/Russian) Smith. Then sign 'JeanSmith' on the back as my 'signature'.